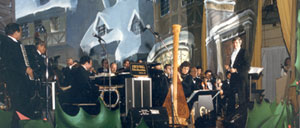 "Never have I seen a crowd dance so
continuously and enjoy themselves so immensely"
Mrs. Betty Marnell
Republican Women of Penna., Inc.
60th Anniversary Ball
"The Ball surpassed our wildest dreams!
The Ballroom floor never emptied:
Fred Hall's music was so sensational"
Mrs. William G. Pierce
Program Secretary
The Philadelphia Charity Ball
"Just a short note of thanks for your help in
making our dinner-dance a splendid evening"
Peter Kapreilyan
Director of Industrial Advancement
Penna. College of Podiatric Medicine
"Your band played excellently, and in particular, I want to
express my personal appreciation to you for the way
in which you got everyone participating and enjoying themselves."
Dave Hamilton
Nationwide Robots Inc.
"Our attendance tripled over the last year. Your orchestra definitely
made the difference. People asked for you specifically"
Andrew Schiavone
Director of Catering
Mariott Hunt Valley Inn
"Our dinner-dance was a huge success due, in a large measure,
to your terrific music. People are still talking..."
Patricia Hogue
Parents Association
St. Peter's School